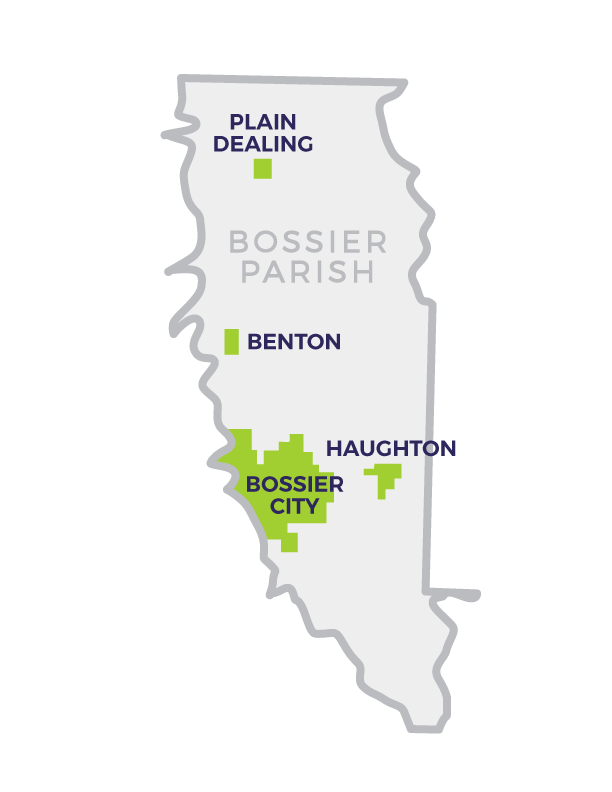 EXPLORE BOSSIER PARISH
Bossier Parish is located in the northwestern part of the U.S. state of Louisiana. The Parish seat is Benton and the principal city is Bossier City, which is located east of the Red River and across from the city of Shreveport. Bossier Parish is part of the Shreveport – Bossier City MSA. Click a community on the map to explore demographics and statistics.
EXPERIENCE BOSSIER & BEYOND
So you've never heard of Bossier-Shreveport? Dive right in and experience this unique northwest Louisiana community filled with culture and excitement!
 Shreveport-Bossier City designated a Louisiana Certified Retirement Community by the Louisiana Office of Tourism   
 Bossier City named No. 7 for "Best Places to Find a New Job" – Money magazine
 Shreveport-Bossier named  a "Game Changing Community" because of its economic potential- Southern Business Development
 Shreveport-Bossier ranked among the "Best Opportunity Cities" – Forbes magazine
 Bossier City ranked as one of Louisiana's top ten most successful cities
 Bossier ranks in top 10 in Louisiana for economic expansion (measured by the number of business, GDP growth, building permit growth, and Federal funds received per capita).  – SmartAsset 

 Business Facilities ranked Shreveport-Bossier:

Shreveport-Bossier MSA ranks No. 2 as an Emerging Cybersecurity Hub
Shreveport-Bossier MSA ranks No. 4 for Economic Growth Potential (Population Less Than 300K)
Shreveport-Bossier MSA ranks No. 10 for Lowest Cost of Living
Also, Shreveport-Bossier and north Louisiana played a key role in the state capturing No. 1 spot for Cyber Security Growth Potential.