Invest Northwest Louisiana is an initiative led by the Greater Bossier Economic Development Foundation (GBEDF) in partnership with Coordinating and Development Corporation (CDC), and the Northwest Louisiana Council of Governments (NLCOG) to promote Opportunity Zones located in the Northwest Louisiana region.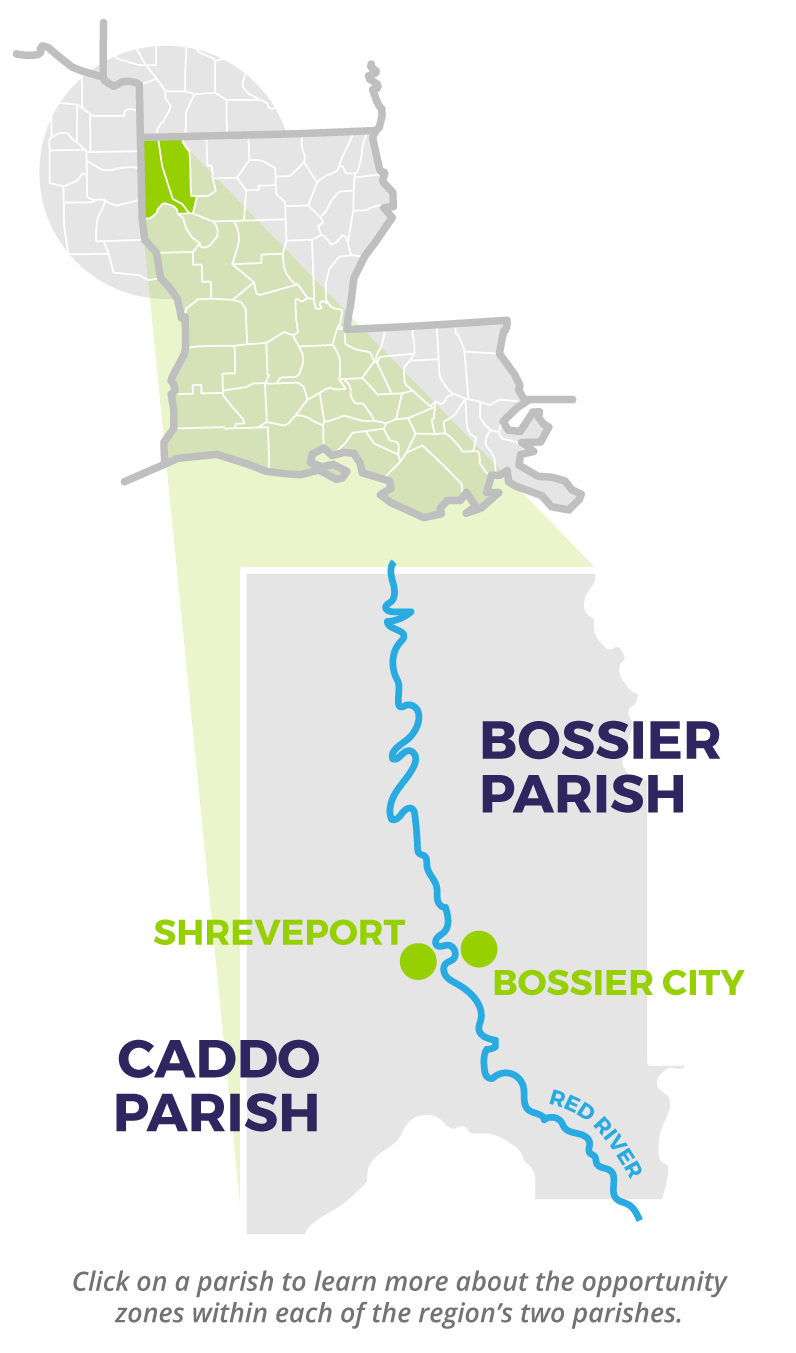 ABOUT NWLA
Northwest Louisiana features seven federally designated Opportunity Zones between two neighboring parishes, Caddo and Bossier. Drawn together by the Red River, the northwest Louisiana region is a hub for business and offers a dynamic economic landscape.
ABOUT GBEDF
The mission of the Greater Bossier Economic Development Foundation (GBEDF) is clear: to market the Bossier community in Northwest Louisiana. By marketing this area for business and tourism jobs, we help build up the state's economy and in turn keep our tax base healthy and growing.
The Greater Bossier Economic Development Foundation (GBEDF) is the leadership organization for economic development in Bossier City and Bossier Parish. Our goal is to position Bossier to be competitive in securing new jobs and investment. Beyond our partnership with local governments, we also support regional efforts sponsored by the Port of Caddo Bossier, BRF, Cyber Innovation Center, Barksdale Air Force Base, Northwest Louisiana Council on Government (NLCOG) and the Coordinating and Development Corporation (CDC) in order to diversify our local economy.
We place emphasis on funding projects and initiatives that create jobs for the local economy. Our community investment impacts workforce development, manufacturing, quality of life, infrastructure upgrades, and assists Bossier's rural communities in economic development. Over the past three decades, the GBEDF has impacted the community by enhancing business development in our regional economy thanks to our stewardship of investment dollars entrusted to us by our membership and the local business community.
WHAT IS THE OPPORTUNITY ZONE PROGRAM?
The Opportunity Zone program was established by Congress in the Tax Cuts and Jobs Act of 2017 to spur long-term private sector investments in low-income urban and rural communities. The program offers federal capital gains tax benefits to investors who re-invest their capital gains into Qualified Opportunity Funds.
WHAT IS AN OPPORTUNITY ZONE?
Opportunity Zones are low income census tracts nominated by governors and certified by the U.S. Department of the Treasury.
WHAT ARE OPPORTUNITY FUNDS?
Opportunity Funds are the investment vehicle that invests in Opportunity Zones. Investors with capital gains can transfer those into an Opportunity Fund within 180 days to take advantage of the tax benefits.
©2019 GBEDF, All Rights Reserved