COVID-19  RESOURCES FOR IMPACTED BUSINESSES 
The GBEDF has compiled a list of resources from various agencies  and organizations on the local, state and federal level that can assist businesses who are experiencing disruptions caused by the Coronavirus.  The GBEDF will continue to monitor news and provide updates to the information listed below.  Please check back frequently for updates and contact our office via email at [email protected] if you have any questions.  
Phase 3 Guidelines
Phase 3 Update | March 31, 2021
The Governor's updated order removes the limitations on when bars and restaurants may serve alcohol, defaulting to local ordinances. People younger than 21 are still not allowed inside bars and bars are only allowed to provide patrons with socially distanced seated service, under the new order.
Salons and beauty shops, gyms and fitness centers, malls and casinos also will not have capacity limits, though social distancing and the mask mandate remain in place along with any other additional measures that may be required by the State Fire Marshal.
Businesses and venues that host larger gatherings, like receptions halls, will remain capped at 50 percent of their capacity, with a maximum gathering size of not more than 500 people indoors and strict social distancing. Outdoor events will be capped at 50 percent capacity and social distancing is also required. Some events may require prior approval by the State Fire Marshal. Businesses should visit OpenSafely.La.gov for more information.
Indoor and outdoor sporting events will be limited to 50 percent of their capacity, with social distancing. Masks are required under all circumstances.
Phase 3 | March 3, 2021
Louisiana will move forward to Phase 3. The Governor's new order will last for 28 days and includes key provisions such as:
Statewide mask mandate remains in place.
Restaurants, salons and most retail may increase occupancy capacity from 50% to 75%.
Bars may open for indoor service with maximum capacity of 25% or up to 50% in parishes where positivity rate is 5% or below for two consecutive weeks. Crowds are not to exceed 250 people.
Live music is allowed only at the approval of the Louisiana Fire Marshal.
Gyms and fitness centers remain at 50% capacity.
Churches will have no capacity limitations with social distancing.
Athletic events may allow 50% capacity.
> Read Gov. Edwards' Phase 3 full proclamation here.
Office of the Govenor - John Bel Edwards
The Office of the Governor's webpage lists dedicated information to help keep citizens of Louisiana informed on the latest information on the Coronavirus.
The Louisiana Department of Health posts twice-daily updated case numbers online at LDH.Louisiana.gov/coronavirus.
News
KEY THANKSGIVING MESSAGES
Updated: Tuesday, November 17, 2020
The coronavirus is opportunistic. The virus does not care whether we are watching football together, enjoying a meal or hugging and talking with our loved ones. It does not care if you are a Republican or a Democrat or an Independent.
We all have traditions that are dear to us. But this is not a traditional year, and we're going to have to get creative in how we celebrate.
Please talk to your family and come up with a plan that is safe and sensible.
This is especially important as families prepare for the upcoming Thanksgiving holiday. It will be here before you know it.
Thanksgiving is about showing those we love that we care. This year, the best way we can show our loved ones we care is by reducing the likelihood that we give them a serious, highly contagious virus.
Have the COVID conversation with your family today about how you can protect and keep each other safe.
It's important that we are aware of the risk levels of different activities and think about how we might adapt or even create new traditions. Per the CDC and the Louisiana Department of Health:

Low risk activities: having dinner with everyday household members, shopping online and hosting a virtual dinner with family and friends.
Medium risk activities: attending small outdoor gatherings with friends and family.
High risk activities: attending large indoor gatherings with people who are not from our immediate household, going to crowded stores or having potluck-style dinner.

If you are going to gather with others, consider ways you might lower your risk. The weather is beautiful this time of year and we know outdoor activities are much less risky than indoor ones.
Social distancing, wearing a mask and good hand hygiene are important if you choose to celebrate with others, yes including family members who are not part of your everyday household.
OPEN SAFELY
In response to the COVID-19 public health emergency, businesses were required to close or restrict activity to preserve and protect the health and safety of the citizens of Louisiana. Because of the success of these efforts, Louisiana is now ready to move forward with opening businesses in a safe, phased-in approach.
This site allows you to register your business and your registration allows you to receive updated communication, notifications, and helpful guidance via email from the State Fire Marshal's Office specific to your business type. These notifications will answer the important questions:
When can I partially or fully open my business?
What are the steps to open my business?
What changes can be expected for businesses that have been operating, but with restrictions?
What restrictions are my business subject to, if any?
Are there any new sanitation requirements for my business?
Are there any personal protective requirements (masks, gloves, etc.) for my employees?
To begin receiving notifications and guidance for safely opening or operating your business, click "Register Your Business". State Fire Marshal field personnel will be assisting owners statewide with their business openings and safe operation.
4/16/20
3/22/20
03/12/20
03/11/20
03/10/20
03/09/20
03/02/20
Small Business Administration (SBA) EIDL Application Deadline Extended
SBA extends COVID-19 EIDL application deadline through December 31, 2021
On December 30, the Small Business Administration (SBA) announced that the deadline to apply for the Economic Injury Disaster Loan (EIDL) program for the COVID-19 pandemic disaster declaration is extended to December 31, 2021.  Economic Injury Disaster loans are offered at affordable terms, with a 3.75% interest rate for small businesses and 2.75% interest rate for nonprofit organizations, a 30-year maturity, and an automatic deferment of one year before monthly payments begin.  Loan applications will be accepted through December 2021, pending availability of funds.
Paycheck Protection Program
Paycheck Protection Program loan expense deductions 
A brief from the Congressional Research Service, updated December 31, explains previous guidance from the Internal Revenue Service regarding recipients of forgivable loans under the Paycheck Protection Program (PPP) and their inability to claim a deduction for expenses funded from forgiven loans.  The inability to claim deductions was nullified by the recently-enacted Consolidated Appropriations Act (H.R. 133), which included the Tax Relief Act of 2020. Under this new legislation, borrowers can now deduct expenses paid out of forgiven PPP loans.  
Reopening the Economy - Guidance from the White House
Open Safe SBC
Keeping our employees and customers safe is the best way to reopen our economy and keep it open.  Included in this local website are healthcare supported recommendations to help businesses reopen and operate safely.  By following these guidelines you can join the effort to help Shreveport-Bossier Open Safe.  The website houses industry specific information, resources and guidelines to help your business to reopen.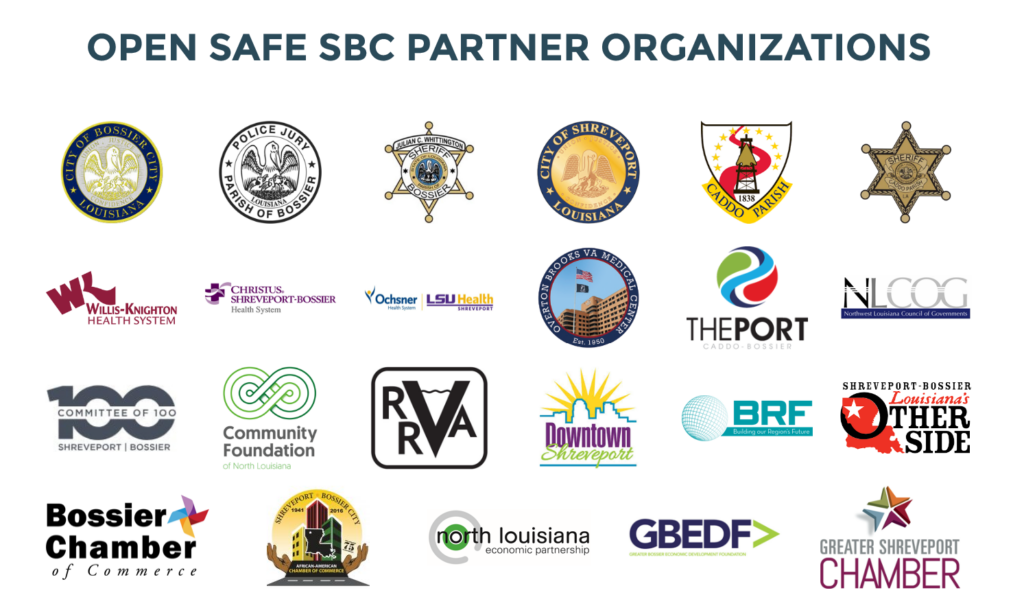 Louisiana Main Street Recovery Program
The Main Street Recovery Grant Program aims to help those who need it most
All eligible small businesses are encouraged to apply! In the first 21 days (through August 17th), businesses who did not receive a Paycheck Protection Program loan, insurance payment, Economic Injury Disaster Loan or advance, or other federal aid will be prioritized, but ALL eligible businesses should apply now. There is also a portion of money set aside to help businesses owned by women, minorities and veterans to help ensure these businesses have access to the aid they need!
Louisiana Loan Portfolio Guaranty Program ("LPGP") in Response to COVID-19
Louisiana Loan Portfolio Guaranty Program ("LPGP") in Response to COVID-19
LPGP loans will provide up to $100,000 in immediate financing to help small firms impacted by COVID-19 meet their payroll, retain employees, pay their rent and mortgages, and keep their lights on and their doors open. Interested businesses may find loan details at OpportunityLouisiana.com/covid19, and a list of participating bankers will be posted at the site by Friday as banks complete their participation agreements.
The Louisiana Loan Portfolio Guaranty Program, or LPGP, is a partnership of Louisiana Economic Development (LED), which will provide a loan guaranty fund; the Louisiana Bankers Association (LBA), whose participating members will offer the loans; and the Louisiana Public Facilities Authority (LPFA), which will administer the program.
The purpose of the LPGP is to provide loans to Louisiana small businesses in response to COVID-19. At this time, LED recognizes small business needs are immediate, and if there isn't a timely response, the State risks losing a foundational element of its economy. In collaboration with the LBA and LPFA, LED has worked with the banking community to provide access to capital to small companies that may experience (have experienced) a sudden drop in revenues due to lost business caused by the COVID-19 pandemic. The State through LED is guaranteeing a portion of each participating bank's loan.
The LPGP will supply capital to create a loan guaranty fund of up to $50 million, in which LED would guarantee 20 percent of the pool allocated to each participating bank.
Each bank will be responsible for reviewing, issuing, securing collateral, if applicable, and collecting, under standard banking practices, loans of up to $100,000 per applicant and any affiliates. All small businesses employing under 100 workers are eligible, including farmers and fishermen and we especially encourage main street small businesses, e.g., restaurants. Suggested uses for the loan are to maintain employee payroll for an 8-week period at payroll levels at the time of application for the loan, as well as to maintain continuance of operations within COVID-19 executive orders, proclamations, and relevant state agency guidance.  The repayment period would be at least one year, but could be longer depending on business functionality during the length of the emergency period and would be anticipated to be no more than 5 years.
Rate would be fixed up to 3.5 percent (lower rates subject to lending institution).
First six months would bear no interest; AND no payment would be due for the first 6 months of the loan.
An acceptable loan amount would be tied to pre-COVID 19 employment and functionality of business expenses pre-COVID 19, as evaluated by the lending institutions.
Ineligible businesses are those engaged in gaming, churches, religious and non-profit organizations, real estate developers, pawn shops, pay-day loans, lending and investment concerns, or speculative activities.
Banks to provide the documentation of a streamlined application.
Periodic reporting including, but not limited to, compliance with the borrower's obligations, will be required on the loan.
Louisiana Loan Portfolio Guaranty Program, Applicant FAQ's

Q: Who is eligible to apply for the program?
A: For-Profit small businesses domiciled in Louisiana which employ less than 100
employees, and have been impacted by COVID-19.

Q: What types of businesses are not eligible to participate in the program?
A: Gaming businesses
Churches
Religious & Non-profit organizations
Real Estate Developers
Pawn Shops
Pay-Day Loans
Lending and Investment Concerns
Speculative Activities

Q: Does the borrower initially contact the bank or lending institution to apply for a loan?
A: The applicant/borrower is required to contact the bank or lending institution directly to
apply.

Q: Are there any program fees?
A: There are no program fees.

Q: How long does the process take?
A: The specific length of time is determined by the loan amount and the approving
lending institution, but is expected to be an expedited process.

Q: is there a deadline to apply?
A: Applications will be accepted by banks until April 30, 2020.

Q: Is there a maximum loan amount?
A: The maximum loan amount is $100,000.

Q: What types of financing are eligible in the Louisiana Loan Portfolio Guaranty Program?
A: Non-Revolving Lines of Credit
Term Loans

Q. How long do I have to pay the loan back?
A: The term of the loan can range from 1 to 5 years.

Q. How can I use the loan funds?
A: The program is designed to help business owners maintain the continuation of operations as a result of COVID-19. Suggested uses for the loan are to maintain employee payroll for an 8-week period at a minimum payroll levels at the time of application for the loan, as well as to maintain continuance of operations within COVID-19 executive orders, proclamations, and relevant state agency guidance. The need for the loan and use of proceeds must be directly related to the economic injury caused by the COVID-19 pandemic.
Louisiana Economic Development Business Hotline
LED Launches Business Hotline
Louisiana Economic Development is launching a telephone hotline service to answer questions from the business community as the COVID-19 emergency continues. The LED staff will field business-related inquiries from small businesses, major industries and other regional and local partners and stakeholders. Our team will seek to provide information directly or provide referrals to available resources elsewhere in state government.
The current hotline number is 225.342.4321. A toll-free hotline number is coming soon. LED also maintains a resource page for businesses to get information, clarity, and answers.
Louisiana Economic Development Resource Guide For Businesses
Louisiana Economic Development's Resources for Impacted Businesses
Resources for the NWLA region can be found here.
Louisiana Economic Development (LED) is currently monitoring the impact of the novel coronavirus COVID-19.
LED is focusing on business continuity aimed at safeguarding economic, as well as physical, health. This information is in addition to that found on the Governor's website; it will focus on useful resources and information for businesses and individuals.
CISA Essential Worker Functions
3/31 
CISA Expands Classification of Essential Workers
This advisory guidance and accompanying list are intended to support state, local, tribal, territorial and industry partners in identifying the critical infrastructure sectors and the essential workers needed to maintain the services and functions Americans depend on daily and that need to be able to operate resiliently during the COVID-19 pandemic response. This document gives advisory guidance on defining essential critical infrastructure workers. Promoting the ability of such workers to continue to work during periods of community restriction, access management, social distancing, or closure orders/directives is crucial to community resilience and continuity of essential functions. CISA will continually solicit and accept feedback on the list and will evolve the list in response to stakeholder feedback. We will also use our various stakeholder engagement mechanisms to work with partners on how they are using this list and share those lessons learned and best practices broadly. Feedback can be sent to [email protected].
View the updated  CISA Guidance List here.
EXAMPLES OF ESSENTIAL WORKER FUNCTIONS UNDER THE CYBERSECURITY & INFRASTRUCTURE SECURITY AGENCY (CISA) GUIDELINES INCLUDE:
Healthcare workers and caregivers
Mental health and Social Service workers
Pharmacy employees
Workers supporting groceries, pharmacies and other retail sales of food and beverage products
Restaurant carryout and quick-serve food operations and food delivery employees
Farm workers
Electricity and Utility Industry Employees
Critical Manufacturing Employees (medical supply chains, energy, transportation, food, chemicals)
Petroleum, Natural and Propane Gas Workers
Transportation and Logistics Workers
Communications and Information Technology Employees
Financial Services and Banking Industry Employees
See CISA essential business guidelines here:
Buy Bossier

The Bossier Parish retail sector is a big contributor to our community's economic success! During these uncertain times we encourage you to patron local businesses whose doors are still open and ready to serve you!
 
DID YOU KNOW?
When you
BUY BOSSIER
, you help to build a better Bossier.  Retail sales taxes flow back into the local municipality's bottom line, which in turn helps to further fund investments in public safety, quality of life and infrastructure improvements.