CASE STUDIES
Leaders in the Bossier community can claim that growth and progress are visibly evident in a big way here in Northwest Louisiana.  The Greater Bossier Economic Development Foundation (GBEDF) is proud to provide assistance and decision making information to new and existing business and industries.  The example case studies provided here show our knowledge and ability to meet needs across industries.  These successes represent only a few of our recent projects throughout our history of serving Bossier Parish.
CSRA Customer Engagement Center
 In early 2014, CSRA announced Bossier City as one of its new locations and shared plans to build its Integrated Technology Center (ITC) in Bossier Parish's Cyber Research Park, bringing with it 800 new jobs to the area.  GBEDF was approached by CSRA in September of 2015 about bringing a Customer Engagement Center to the area to serve as support for the company's operations in addition to its newly announced ITC.
Although the proposed Customer Engagement Center had an existing company base here in the area, another community was being considered for the location making this a competitive process.  GBEDF was able to respond in a short time frame by identifying client needs and providing an efficient process of site selection and commercial development to help the company launch in its desired time frame, and also helped to address the company's workforce needs.  The result of our dedication and flexibility to meet the client's needs helped us to expand the Bossier job market and add 300 new employees to the area all while reviving a vacant office building near the center of Downtown Bossier City.
 John Dancy, CSRA Chief Information Officer shares the company's experience on expanding in Bossier City, LA:
"When we first decided to establish roots in Bossier City several years ago, we saw it as an opportunity to influence, equip and prepare the upcoming workforce of next-generation IT professionals.  The return on investment in Bossier City has been immeasurable. Our employees there are working hard every day to solve our customers' toughest challenges. We have also developed really solid partnerships with prominent local organizations and educational institutions, like the Greater Bossier Economic Development Foundation and Bossier Parish Community College, who were critical to our success as we considered expanding our workforce by 300 additional employees. We remain committed to bringing jobs and economic growth to Bossier City and we're eager to continue building brilliant teams who will help us lead our federal government customers into their digital futures."
Center for Advanced Manufacturing at Bossier Parish Community College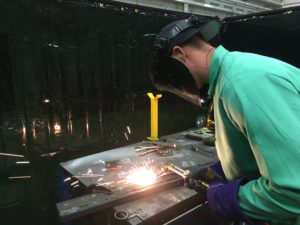 Bossier Parish is home to Bossier Parish Community College (BPCC), one of the nation's fastest growing community colleges. BPCC has been nationally recognized for its innovative approach to higher education.  The college has also been noted for its commitment to building market responsive degree programs to sustain the local talent pipeline.  As the manufacturing industry continues to expand, Northwest Louisiana is prepared to provide well qualified workforce.  The college's Center for Advanced Manufacturing is an impressive example of their investment in workforce development.  The Center for Advanced Manufacturing training facility was built on the college's campus to support the labor demand for Benteler's offshore drilling operations at the Port of Caddo-Bossier.  The Greater Bossier Economic Development Foundation contributed seven-hundred-thousand dollars to complete the funds needed to match the twenty-five million dollar construction cost.  Our investment in the manufacturing industry and workforce development yielded a state-of-the-art training facility that can be utilized for training across north Louisiana.
Coburn Supply Company
Bossier Parish is viewed as a forward thinking community dedicated to supporting business growth and development.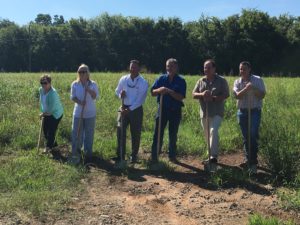 No one can express it better than the actual businesses who look to our community to help grow their business.  "We chose to invest in Bossier because Bossier invests in itself." explains Coburn's V.P. & General Manager, Darren Tramel on the company's expansion in Bossier Parish.  Coburn Supply Company approached the GBEDF about their interest in developing land located inside the Commerce Industrial Park at I-220 and Shed Road where they planned to construct a new showroom and warehouse facility from the ground up.  The GBEDF assisted in facilitating the negotiations to purchase the land used for the new development.  The $1.5 million dollar development would help the company to expand its services to the regional market and create approximately 50 new jobs in addition to its existing employment base.