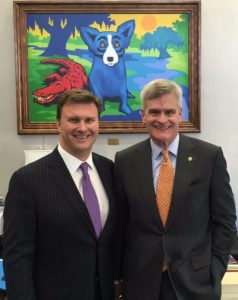 Bossier leaders visited Washington, D.C., through Wednesday to conduct appointments and bring regional priorities to national leaders as part of the BC to DC Washington Fly-in, sponsored by the Greater Bossier Economic Development Foundation (GBEDF).
The top priorities for this trip include:
•Barksdale Air Force Base – Funding for a Consolidated Communications Facility as well as an Entrance Road Gate Complex from I-220.
•Infrastructure – I-20 Maintenance and Improvements; Red River Flooding; and Red River Waterway Projects.
Bossier Chamber President/CEO Lisa Johnson and Government Relations Director Michelle Cavanaugh are joined by GBEDF Executive Director David "Rocky" Rockett, Northwest Louisiana Council of Governments Executive Director J. Kent Rogers, Barksdale Forward President/COO Murray Viser and Bossier Parish Schools Public Relations Liaison Sonja Bailes.